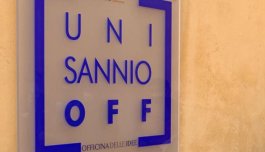 The University of Sannio has inaugurated OFF, Workshop of Ideas, a space of creativity and contamination available to students, in the San Vittorino Building. A large area on the ground floor of the university building, which overlooks a wonderful internal courtyard and which will host seminars, extracurricular training activities of a transversal nature, theater, music, book presentation, or simply study in a group.
"At UniSannio - said the rector Gerardo Canfora - we strongly believe that the creativity of our children is the main ingredient to build a better future. The University trains skills in its classrooms and laboratories, but the growth of the person is completed with experience and comparison.
Also shown to the students Palazzo Bosco Lucarelli after the completion of the renovation works. "These are the first steps - explained prof. Camphor - of the modernization work that is involving various university structures with the aim of realizing the vision of UniSannio as an urban campus in the historic city center. We believe in the intimate link between knowledge and the places where it is transmitted. The growth of knowledge in a beautiful and welcoming context is the added value of our university ".