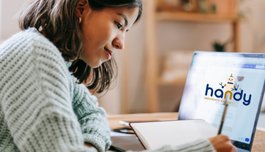 Handy UNISANNIO, the university's e-learning platform, is born. Students of the University of Sannio can access the new service from the handy.unisannio.it link
On Handy UNISANNIO it will be possible to consult the contents of the courses (slides, documents, videos, etc.) as well as animate forums, blogs, chats, wikis. From the platform you will also have access to assignments, questionnaires and assessments.
Discover Handy UNISANNIO, your university at your fingertips!