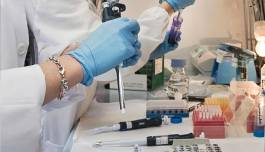 "A metabolic function of FGFR3-TACC3 gene fusions in cancer" is the title of research published by the journal Nature on 3 January.
The research team, led by professor Antonio Iavarone of Columbia University, also includes three professors from the Department of Science and Technology of the University of Sannio: Stefano Pagnotta, professor of Statistics, Michele Ceccarelli, professor of processing systems for information, and Luigi Cerulo, a professor of information technology.
The study explained the energy supply channel of the tumor cells, characterized by a specific variation of the DNA that leads to the generation of an anomalous protein partly deriving from the FGFR3 gene and partly from TACC3.
The first indications of this research date back to 2013, when both the analysis of public data and pilot experiments in vitro, a strong association was observed between tumors expressing the fusion of FGFR3-TACC3 genes and an intense aerobic respiration activity. In the following years the clue became a test that was confirmed both with new experiments in vitro and with in vivo experiments. Statistical techniques have been also refined that found the same association also in other tumor forms that express the same gene fusion.
This discovery is particularly important because it concerns gliomas, one of the most widespread and aggressive forms of brain tumors. The hope is that in the next few years, from this new discovery, a personalized therapy can emerge that will benefit those affected by this cancer.
The research is available at this link https://www.nature.com/articles/nature25171.