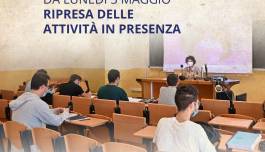 The University of Sannio will be back in attendance from Monday 3 May. Lessons, in mixed mode, can be attended in the classroom or from home, so exams, graduation sessions, research activities will normally take place in person.
The university has never stopped since the beginning of the pandemic, promptly rescheduling the activities, according to the ministerial provisions and in full protection of the health of students and staff. Now, with Campania in the yellow zone, the Academic Senate has formally ordered the reopening of the structures from next Monday. The Student Secretariat will be open to the public during the usual counter hours. Loans and consultation will also be possible in the Library, while the use of the study rooms is not permitted at the moment.
All the activities in the presence will be carried out in compliance with current legislation and the Covid-19 protocols adopted by the university.
"We never stopped - said the rector Gerardo Canfora - but returning to be together in the classrooms and laboratories will allow us to fully carry out that training process made up of relationships and exchanges between people. The return to full normality will not be immediate but the resumption of part of university life for our students will give breath to the university and to the entire city ".